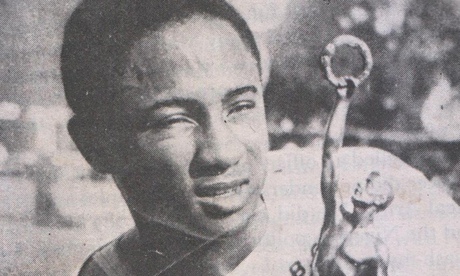 November 1,2017
Report : by TheBiafraPost
There is no justification of his act because his selfish response cost millions of lives; the lesson is, when you target a leader because of his actions, you don't only get at him but millions of people he leads" This was my response as soon as the story came to an end.
In a bit to conceal the atrocity against humanity between 1967 and 1970; we have been denied history and events but it is left for this generation to dig deep and find out what happened to their Fathers; luckily, there are major actors who can still talk and recall everything that transpired.
The event that led to the fall of Biafra remains the sabotage championed by Emmanuel Ifeajuna and the story has been all along viewed from a perspective. The buildup events to that singular act were given less attention simply because the outcome was unbearable.
History is there for the wise to learn and not a sort of entertainment; yet, the desire to bury Biafra and everything that accompanied her has led to distorted accounts of events. Lack of digging and allowing strangers tell our stories contributed to indefinite search for truth. The word 'Biafra' was proscribed and made a taboo after the civil war by Nigerians establishment.
Without that singular act from Ifeajuna; Biafra would have won the war because Midwestern Liberation Force had almost captured Lagos and Ibadan and from there, Victor Banjo would declare Oduduwa republic and the war will be on two fronts for the federal troops and subsequently lead to the balkanization of Nigeria. Victor Banjo was seen as the better replacement of Awolowo's agreement with His Excellency.
By the time September 25th 1967 came; Ifeajuna and Banjo had corrupted Biafran army, the money, deceit and Nigerian promise had taken tolls on Biafran officers and it festered.
About Emmanuel Ifeajuna; we don't open up every story, Ifeajuna took millions of lives with singular action but I can see you are obsessed. The story of what pushed Ifeajuna to sabotage is not good for you, not okay to be detailed to a journalist"
The founder of Biafran Vandals said to me after tempting and avoidable questions; very careful with words but I was too obsessed to be abandoned, I know we needed pure history to enable us succeed in this second attempt.
"It started with Azikiwe to Justice Araka, down to Onitsha prominent men and finally to Ifeajuna. But what I cannot tell is if Ifeajuna was in contact with Azikiwe but as for his people, he was in contact with them. His Excellency Dim Chukwuemeka Ojukwu is not God; he is a man and a man cannot be infallible"
He ambiguously said while I waited for roles of the names mentioned.
I was not with the Vandals because I am a point orderly of Chief of Army Staff; I am always at Madonna Seven, I do come when things are hard, like when they tried to neutralize the Vandals, Nwawor never knew I was a Vandal. Those that truly fought the war will know who is talking to you"
He had previously prayed I don't apply his official name but admitted I go with his group's name, a group he formed during the war. Brigadier Nwawor accepted my plea to give all Mid-western soldiers pass to come and defend their home towns. Federal troops were going to overrun my home town and advance to other mid-western towns so at Madonna Seven, Brigadier Nwawor gave me the order to go and defend my home town. We successfully stopped federal troop's advancement and that night; my father killed a goat in our compound and the whole soldiers celebrated. While in celebration; we sought after a name the soldiers that stopped that advancement will bear, and then one of our comrade suggested Biafran Vandals" Still agile and playing against season; he sluggishly agreed, season has not been fair to him and his voice was stronger that his gesture.
Ifeajuna as a name became a taboo; I was so close to him, we talk and he tells me things as his boy, yes, I was part of the troops that headed to Ife, he is a cool guy, any time you salute him, he pats your back and calls you 'bros'. He overreacted and sold the entire nation for the sake for his community to please them or be a brave son. Odogwu was already having it hot for facilitating the detention of his people but what I cannot determine is if Ifeajuna was tapped by his people"
In this generation; the people of Biafra personify Ifeajuna 'Sabotage', the man was hated to the extent that no man took after the nomenclature since his demise.
"Do you know this man in question; have you done your research? His alliance with Yorubas was his weakness, Ogboni fraternity, when the fraternity was raw"
He asked as I Negatively shook my head.
"He was a gallant soldier in the Nigerian army; a lieutenant colonel and promoted in Biafran army, he was the man Kaduna Nzeogwu gave the West to cleanse of political elites. He didn't execute it well because he was in a fraternity populated by Yorubas and in that fraternity, you don't kill fellow member. He escaped to Ghana when he lost contact with Nzeogwu, with the thought the coup has failed but only to find out Nzeogwu succeeded and he hurried back to follow suit. Later on, Aguinyi took over and kept them under house arrest instead of prison as suggested by His Excellency and also neglected their plea to order the killing of top ranking soldiers and influential men to avoid further coup. Even when Aguinyi wanted to tour the country; they warned him not to go and Ojukwu did as well but Aguinyi declined. The death of Aguinyi at Fajuyi's home in the hands of Danjuma inspired setup pushed Ojukwu to release Awolowo and reached agreement with him on declaration of Oduduwa republic. When Awo left; he was given minister of finance and he betrayed Ojukwu but then, Ifeajuna had found a new friend in Brigadier Victor Banjo, another Yoruba who fought on the side of Biafra"
He paused and had a deep breath, continued.
"But before Ifeajuna's sting; morale was high and the plan was to take down Lagos and Ibadan. We were going to shell Ibadan but he came in with Victor Banjo and ordered us to forfeit attack, he categorically said no movement. I personally found out that something was wrong and reported to major Achibong who in turn told me to monitor him and gather intelligence report for his arrest. It was demoralizing that we had such situation in the early days of the war; Ifeajuna and Banjo had sold us out for power, money, promises and retaliation. You are on advancement and a brother attacks from your back; we had to find our way and then they chased us back. I was still across and returning when Onitsha Bridge was cut off and I had to swim; I know how to swim very well"
He paused for a while as though flashing back to that very moment.
"Ifeajuna had visited Ojukwu to know why over 20 of his prominent kin's men were locked up by headquarter but was not given a good reception by His Excellency. The issue started with Nnamdi Azikiwe (Onitsha) but then Justice Araka's family issue and subsequent divorce spilled. His Excellency was his friend and they both studied at Oxford University. Justice Araka (Onithsa) was locked up and when prominent men from his town stormed headquarter to know why their learned and prominent son was detained; His Excellency was angry and felt disrespected and also detained them with the help of Odogwu, the founder of Biafra SSS, intelligence service. Odogwu had it hot; his town laid curse on him and Ifeajuna from the same town decided to respond to the issue but his response cost millions of lives and the ruin we still suffer till date"
He shook his head and continued.
"If that matter didn't come up; we wouldn't have ended with No victor No vanquish. When Banjo led Ifeajuna into Lagos to strike the deal; Ifeanjuna already knew Nigerian men so everything was so easy. Ifeajuna converted men that were being paid millions of pounds by the Nigerian government and distrust grew like a flower watered every dawn among us" He looked at me to observe my reaction; but I was attentive and longing for more. Ifeanjuna first told us that we would establish a special force that would invade Lagos and every soldier was struggling to be part of the special force. He also said all of us must barb our hair- bald head for everybody and we did, I did also as part of preparation for the special operation. Then the next thing was that we were going to go somewhere and drink water as part of preparation; as God may have it, I did not come early enough and I saw them and smartly retreated and found out there was a serious trouble because we were doing a different thing from what we came to do. Finally; that water later became oath or rather initiation of our soldiers, hence you drank the water, you are involved, you will be paid handsomely and Nigerian soldiers will never attack anyone with bald head. The bald head guys turned against us and we lost the mission; in the cause of aborting the mission, Nigerian troops have saturated and offensive became the deal, we were forced to defend and everything became history"
He disappointingly narrated.
"Ifeajuna thought that his sabotage was a direct payback to His Excellency and he further thought that his act would make Biafra surrender or federal troops will honorably reclaim or capture Biafra but he was no longer around to see what later became of his people. Court marshaled and fired by squad didn't stop his act from hunting us and bringing us down. Sabotage cost us; but nobody is infallible"
Finally; Ifeajuna had the intention to take over from Ojukwu, once Nigerian troops override Biafra and capture Ojukwu, Ifeajuna will be made the Eastern governor. Banjo will also be given high position but instead of capture Ojukwu; they embarked on suicide that cost 3.5 million lives"
Ending his story posited that 1967 class had their own shortcomings but the purpose of history is to learn and correct lapses.
Ifeanyi Chijioke is a thinker, revolutionary writer, a senior journalist at TheBiafraPost and socio-economic and political analyst that writes from the Onitsha in Eastern part of Biafraland
Published /Edited by Anyi Kings
Reach Anyi for your article via